The topic of flying in the US is sure to evoke a range of opinions and emotions about the airlines themselves, the flying experience, ticketing, airports, TSA and security checks as well as a general debate about who knows more about flying among the participants. We are all influenced heavily by our biases created by our upbringing, parents, friends and travel experiences where one person's horror is another's paradise. However that doesn't mean if you have real perspective you can't call out BS when you see it! Now let's put some of my cards on the table with airlines and the flying experience so you can get a better idea of where I am coming from and my own bias;
As a transplant to the US, I have flown extensively both internationally and domestically with non US airlines
I have been flying for over 30 years and fly regularly these days
I am a self confessed elitist when flying and love all the perks that status, lounge, etc. can bring
I generally like airline food although I usually know which options to avoid 🙂
Given the above what I am not going to do is to compare any of the US airlines, flight experiences, lounges or on ground services with any of the International airlines or standard operations. Quite frankly on most counts they compare horribly and would be like comparing a 2014 Lexus to a 1980s Chevy. However I will say in all fairness, admirably the US airlines collectively along with the FAA are leading the world with in plane WiFi access, removal of dumb in flight mobile device use regulations, value for money with rewards points and embracing of mobile apps to augment the whole airline experience. Sadly all of this can get overlooked as soon as your flight attendant or phone ticketing agent opens their mouth.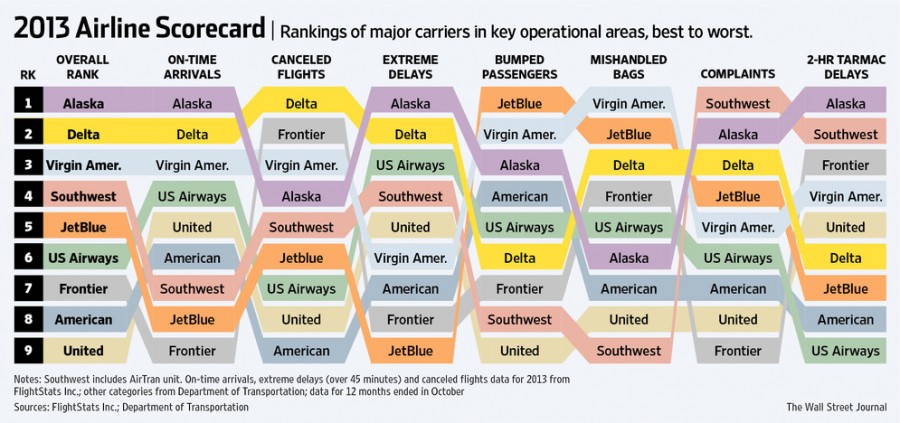 So here is my rankings from Best to Worst of the US domestic carriers. I am not including every US airline in this list because I haven't had direct experience with them. I also am splitting up American Airlines and US Airways as they are still two distinct flying experiences although (unfortunately) will soon be one. Notice also I will rarely refer to price in this list as by and large the pricing is so similar across the board. Ancillary fees may differ and hubs are important and will be highlighted but outside of that pricing is not much of a factor in this list overall.
1. JetBlue
JetBlue was founded in 1998, long after the de-regulation in the US aviation industry in the sixties and seventies and in many ways was created upon the principal to be antithesis of the major carriers. That is to offer refreshments and snacks without charge, provide modern aircrafts, slightly more legroom, entertainment, limits ancillary charging (i.e. luggage), reasonable pricing and ultimately a better, friendly and more human service mantra. Now 15 years old, JetBlue very much has a national footprint and brand having grown from its Northeast base and tends to have a higher than average brand perception from the general public.
JetBlue historically has had no premium cabin like a first or business class but that will change for select cross country routes from Summer 2014. It also has had limited international destinations largely comprising the immediate North American vicinity but it is slowly growing. They also have limited partnerships to major airline networks like One World or Star Alliance and very little transfer benefits with other airlines. Finally JetBlue's rewards value has tended to be amongst the worst for rewarding loyal travelers and with no upgrades as well means they are more true to their egalitarian flying mantra.
Verdict: If you largely or wholly fly domestically, are based in New York City or a couple of other major hub spots and ultimately want the most consistent decent travel experience with free amenities (not WiFi) then JetBlue is an airline worth considering.
2. Southwest
Southwest bills itself as the world's largest low cost carrier although without doing any International comparisons about what low cost represents, let's say they are definitely the US biggest budget airline. Like JetBlue they are newer than the traditional carriers and certainly a lot newer when it comes to a national footprint, largely due to regulations. By passenger numbers in 2011 they are in fact the largest US domestic airline but with no International destinations on their routes. Their marketing tends to the most quirky and provocative and like JetBlue a lot of it is directed at running counter to the traditional US airlines and flying experience.
They only operate one type of aircraft, charge no change fees for ticketing, offer free refreshments and snacks, have a friendly crew, entertainment options at a charge (more reasonable than competitors), are the only major US airline to never crashed and are the least restrictive with rewards booking. They also have no shared arrangements with other airlines and like the low cost airline mantra nominally have no first or business class seating and indeed no assigned seating but rather boarding zones.
Verdict: It was largely a toss up between JetBlue and Southwest but having some international destinations and a very limited New York City presence (which is a big drawback for business, tourism and international gateway travel) and also not having free entertainment means they are a close no.2. Again this is the airline of choice for domestic flyers and especially if you fly a lot in an out of Texas, Illinois and California.
3. Virgin America
Virgin has the newest fleet of airlines and is the newest entrant on this list only having launched in the last decade. They have a very strong base if you are flying in and out of California but in general can get you to most major regions maybe on a less frequent basis per day or week. Their seating and entertainment is state of the art for a US domestic airline, although no snacks are free but can all be touch ordered via their free entertainment screens. They were also the first of the US carriers to embrace WiFi and in my experience have had the best service consistency. Their entertainment includes an extensive music collection as well as the TV channels and pay per view movies. Although they don't fly internationally via their larger Virgin brand with Virgin Atlantic, Virgin Australia and some other select cobranded efforts there is an opportunity to benefit from loyal travel rewards. Ultimately they try to present a quirky approach to flying from everything to their purple mood lighting and comedic safety videos featuring Richard Branson. They are also reportedly soon to IPO. Their service tries to emulate their quirky and sexy brand and Californian US roots but probably falls short to the top 2 airlines in this list.
Verdict: If you are based in California and like a largely comfortable flying experience with planes that are more reliable because they are new then Virgin America is a great choice. WiFi although widely available is US carriers these days tends to have below average performance so Virgin in my opinion allows you to be the most productive and they also have AC power slots across the cabin.
4. Delta
Delta a few years ago prior to their takeover of Northwest were very much a laughing stock US carrier. They had an old fleet, the worst record for losing luggage, no real international network of airlines and a terrible in flight experience. Kudos to them as they have made significant improvement in all these areas and of the legacy US airlines are clearly the best today. Their in flight service is above average now along with their call centers and with a newer fleet and complimentary drinks and basic snacks, the entire flight experience is orders of magnitude better than before. Plus they no longer lose bags much!
Delta has probably embraced technology, mobile and modern flying flexibility the most of the major US carriers. As the anchor and pioneering airline of the every growing Sky Team alliance, no longer is Delta cut off from the lucrative international flying market with partner airlines like Air France, KLM and major carriers in Asia. Delta of the biggest airlines probably has the worst value Frequent Flyer program with the most stringent conditions and they are changing it soon to further reward to high elites and high payers.
Verdict: If you were starting from no loyalty as a US flyer and international flying is going to be part of your life along then Delta would be your first choice of the major US carriers especially if you are a regular or higher class flyer. With big hubs in Atlanta and New York and frequent flights to Paris and Tokyo and increasingly modern fleet, Delta is starting to be the major US carrier that is at times somewhat competitive in the global airline experience world.
5. American
American used to be my hated US airline. That was a shame because my own status in the One World network which American is a major part of, incentivizes me to fly American most. I actively avoided flying American for years despite the impact to rewards, lounge and status but about 2 years ago I revised that stance and tried again. American not to the same extent as Delta but to a significant degree from where they were started to humanize the flying experience again which is a dramatic change. Now my flight experience is skewed when I fly American because I know I am treated better than the average flyer but having had benefits at other US airlines, they clearly are better than those below them on the list.
American entertainment is pretty non existent although they are upgrading their fleet as speak and for most passengers, in flight service for domestic flights is just a refreshment. Their major hubs more than any other airline cover the major US centers including Dallas, Chicago, New York, Los Angeles and Miami. The One World network with partners like JAL and Qantas in the Asia Pacific and British Airways in Europe along with current perennial best airline award winner Qatar Airways, is phenomenal for the global traveler.
Verdict: If you fly to the major US centers often and go to International destinations covered by the partner airlines then American would be a good choice. The biggest caution with American is the integration with US Airways and leadership of the company by US Airways management.
6. Spirit
Spirit is a niche carrier that has reinvented itself in recent years as the US version of Irish budget carrier Ryanair albeit with no consistently as low sticker prices as they do in Europe. Everything is an additional cost in Spirit from refreshments to carry on luggage which lends itself to the budget and occasional flyer. They actually do fly Internationally, mainly to the Caribbean and Central America and have a greater East Coast presence. Their naming convention of "Big Front Seat" for their premium seating meant to be quirky to me just sounds amateur.
Verdict: More than any other airline in this list is you get what you pay for. They have received bad press but ultimately they are an airline that promises little and delivers on that little and is no frills. So if you are a savvy flyer that flys rarely but knows how to budget then Spirit might be for you.
7. United
The sad cousin of the legacy carriers. Opposite to the Delta/Northwest integration, when United and Continental merged a few years ago both fairly average airlines are now well below average as a joint entity. United in many of the recent industry airline rating lists over the past 12 months have come dead last and with terrible customer service pre flight to horrendous and non existent service in flight, United travel tends to be the average flyer's nightmare. To be fair they are in midst of a major fleet upgrade, they have to a degree embraced mobile and either have the best or near best rewards value and availability of seats, although this has declined in recent times.
They used to be great to be able to achieve higher status levels and attain upgrades but have made that far more strict and cumbersome over the last 2 years. This is ever more stark because of the difference between some service in higher classes versus bad or no services in economy. They are part of the Star Alliance network which means great airlines like Singapore Airlines and very good ones like Lufthansa, Air New Zealand, Air Canada and the ever improving Turkish Airlines are part of their International network.
Verdict: Don't fly United unless you are Gold level or higher already or you really value their number of routes from major hubs like Chicago, San Francisco and Newark. You can always fly Singapore Airlines on your own and the rewards transfer back to United is never that great anyway. Ultimately United are already kissing your feet then walk those feet away and don't be surprised when they change the rules again against you
8. US Airways
All you ever need to know about this shamble of an excuse for an airline is they had a policy to not turn their air conditioning on while at gate or on tarmac until the flight is in the air to "save" on costs. Imagine being in Phoenix in the desert in the middle of July and it is well over 100 degrees fahrenheit (40 degrees celsius). Up until recently they used to a lot of codeshare with United and are still officially a part of the Star Alliance. However with the approved merger with American and their CEO taking over the combined entity despite being the far smaller partner, let's hope the combined soon to be largest airline in the world under the American brand remains no. 5 rather than the worst airline in the US.
Verdict: Thank goodness this brand is on its way out but let's hope it doesn't corrupt American. Don't fly unless absolutely necessary