In my role at Salesforce, we produce a lot of 1st party research, data and market trends, and general thought leadership for the Marketing, Advertising, Analytics, Digital, and Data professionals.

On May 19, 2020 we launched our latest State of Marketing research report, that surveyed almost 7,000 marketing leaders who are leading through change, all over the world (29 countries plus Hong Kong), across all major industries, across B2C/B2B/B2B2C, and all sizes of companies to again get their pulse of what is going on within their organizations and teams, with their technology and data, and their tactics to achieve marketing performance and business stability.

This global survey was conducted in January, when the impact of a global pandemic was not on most marketers' minds. As we reviewed the impact of this on the data and talked to key stakeholders across Salesforce and beyond, we found that most trends and messages remain relevant amid COVID-19, although we added some qualitative perspectives from CMOs in key areas that could evolve.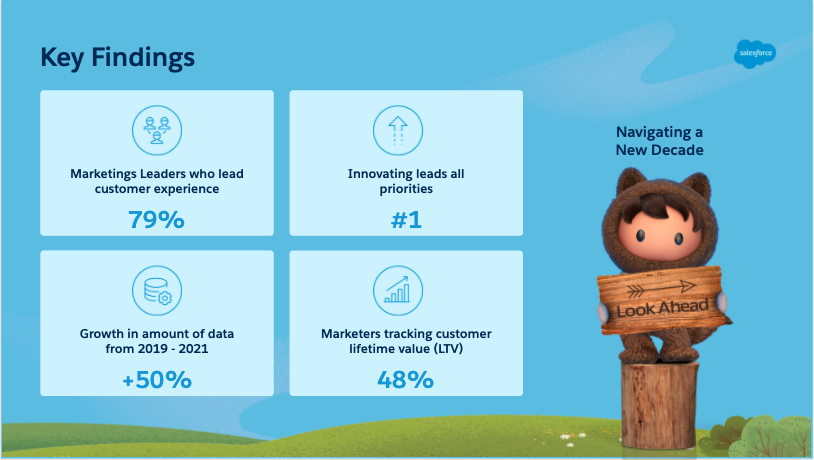 There were 4 key macro trends that we uncovered;
Innovation: Marketing leaders globally stated this is their no.1 priority this year and while the focus of their innovation may evolve to new realities, it is still crucial to adapt the customer experience. With 79% of marketers reporting they are leading customer experience initiatives across their companies, they play an important role.
Marketing Team & Technology: Marketing Transformation Takes On New Urgency – Currently 72% of marketers say they are aligned with IT, but in other Salesforce research IT leaders rank insufficient business unit alignment as a top challenge. Within the marketing department, 53% of marketers report dynamic cross-channel coordination, which is up from 31% in 2018.
Data & Intelligence: Customer Data Sets the Stage for Empathetic Marketing – The scale of data usage continues to rise. From 2019 to 2021 there is an expected 50% growth in data sources used my marketers. AI is a core driver of personalization at scale using this data. There has been a 186% growth rate in marketers adoption of AI since 2018. However only 30% of marketers are completely satisfied with their ability to balance personalization with customer comfort levels
Channels & Analytics: Marketers Double Down on Business Value – Currently 72% of high performing marketers can analyze performance in real-time versus only 49% of under performers. Additionally 82% of high performing marketers say B2B and B2C tactics are converging, with tactics and programs like Account-Based Marketing and Influencer Marketing increasing in prominence in the marketing budget and business ROI value.
Secondary key trends:
Most marketers now share goals and metrics with their counterparts in e-commerce (80% in 2020, up from 50% in 2018), sales (81% in 2020, up from 52% in 2018), and service (80% in 2020, up from 53% in 2018).
69% of marketers say traditional marketing roles limit customer engagement, with skillsets like data science and emotional intelligence being the least advanced amongst their teams
At the start of the year, B2C marketers said 18% of their budget was going to Content and 21% to Technology.
At the start of the year, B2B marketers said 16% of their budget was going to ABM and 17% to Technology.
Engaging with customers in real-time, which was marketer's no.1 challenge in the previous State of Marketing, continues to be the no.1 challenge now.
48% of global marketers track customer life-time value (LTV) which is up from 43% in 2018.
Only 35% of marketing leaders are completely satisfied with identity reconciliation which is strongly related to the rising need for Customer Data Platforms (CDPs)
Only 28% of marketing leaders are completely satisfied with their ability to balance personalization and comfort levels
The use of AI by marketers has grown 186% since 2018, and the top 4 use cases globally are (in order); 1. Personalize Individual Channel Experiences; 2. Improve Customer Segmentation / Lookalike Audience Modeling; 3. Surface Data Insights; 4. Drive Next Best Actions in Real-Time
Marketers most consistently cite web, influencer marketing, email, and communities as the channels with highest ROI across the customer lifecycle (brand building, lead generation, customer acquisition, upselling, customer retention, and customer advocacy)
80% of B2B marketing leaders say they have been running their Account-based marketing programs for 3 years or more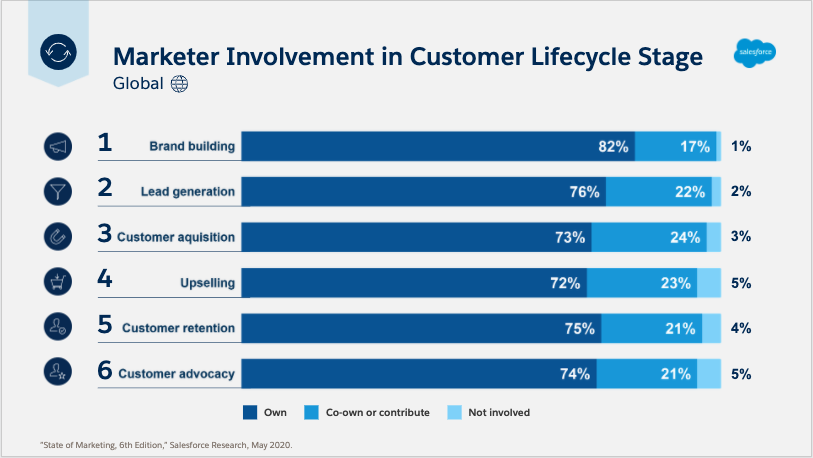 Key Links & Follow Ups: (All On-Demand after Live Events)
Global Launch Webinar – Tuesday June 2, 2020 (register)
Marketing Cloudcast – State of Marketing Launch w/ ME and Corinna Cohen @ Caleres – Friday May 22nd (listen) – MY 1st PODCAST
Marketing Trends Podcast w/ Jamie Moldafsky, CMO of Wells Fargo (Wed May 27) & Sydney Sloan, CMO of Salesloft (Fri Jun 5) to discuss SoM Trends (subscribe)
Salesforce Launch Blog by Marketing Cloud CEO, Adam Blitzer
Tableau Interactive Dashboard: This is NOT State of Marketing data but a new interactive dashboard tracking study we launched on May 11 which will update bi-weekly of approximately 3,500 individuals (so customer lens) across major markets to identify changing consumer needs and behaviors and can filter by Country, Gender, Income Level, and Generation. You can SHARE this with customers. From Week 1;

Marketing Lens (Global): 32% of consumers think business-as-usual communications are completely appropriate. (vs. 7% not at all appropriate)
Marketing Lens: 29% of Australian vs. 47% of Brazilian vs. 26% of French vs. 25% of German vs. 32% of UK vs. 37% of US consumers think tips and advice communications are completely appropriate.

Click to Tweet for report: https://ctt.ec/eTse7 & for blog:  https://ctt.ec/A86Vo