My name is Chris and I lead and have led the global product, marketing and business development efforts of various technology companies including Salesforce, Kleverbeast, GameGround, Adobe (Efficient Frontier), Jive, and Gravity Networks. I have been involved in these early to mid stage venture backed technology startups, through to high growth and pre-IPO companies, and up to innovative public companies in the Fortune 500 for close to 20 years. I have tasted the relative highs of 3 successful exits and numerous launches, and the failures of companies fire-selling and winding down. I have traveled extensively across the globe to all continents (sans Antarctica), and 47 states across the US. I have lived long term in my hometown of Melbourne, then Sydney, Boston, and now New York.
I would like to think that I have grown as a leader in our industry but I am always learning. I pride myself on bringing a unique passion and empathy to my marketing efforts building brands and bringing new products to market. I have presented in major forums like SxSW, Dreamforce and SIPA, been covered in publications in Forbes, CBS Interactive, The Guardian, Adobe Insights and AdExchanger and has also been a guest lecturer at the University of Maryland. Outside of the professional walls I am a passionate advocate for US Immigration reform, founding the "Live & Work in America" portal and publishing the book "How to Live, Study and Work in America" in 2012. I mentor various entrepreneurs, aspiring Immigrants and youth through programs like MicroMentor, StudentMentor USA and iMentor as well as an organization I founded called The Visa Coach.
I currently reside in New York and apart from my wife, Yvonne and baby daughter Kaia (aka Hoji), my passionate loves are travel, cuisine, theatre, wine and liquor making, audiobooks, politics, history, keeping fit and football of the Australian and round ball varieties. I love my family and friends and enjoy nothing better than venturing back to Australia over the Christmas period for a second Summer and a load of fun festivities.
More recently I have a side gig as a part-time cameraman and project manager for Yvonne meets Food. Check it out on YouTube! Also check out my Baby in Data series which looks at first year of our baby's life with a unique data lens to hopefully help other parents have a general benchmark for their journeys.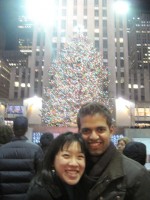 It is my hope in the near term we get Immigration reform passed in the US and we move further towards a more libertarian but socially liberal society where economic mobility and entrepreneurship generates greater opportunity for all, but with an appropriate safety net for those less fortunate and who have been historically disenfranchised.
On a grander scale as the globe becomes smaller and our cultures continue to mix, the plethora of food, understanding and culture spreads, the ability for us to solve our greatest ills like human illness (both physical like cancer and mental), poverty, environmental challenges and more human equality becomes ever closer. As does our ability to further reach for the stars and gain greater understanding of ourselves, our minds, our world and the mysteries of our existence.
Find me on ….
Twitter
LinkedIn
Salesforce
Trailhead
Adobe
Amazon
About.me
Crunchbase
WellFound (formerly AngelList)
Quora
Medium