So Facebook paid $19B in cash and equity for text messaging giant Whatsapp making it the largest ever venture backed private acquisition. This actually values Whatsapp at more than many world renowned and well known brands including;
Traditional Brands (Xerox, American Airlines, GAP, Alcoa, Campbell Soup, Hertz, Harley Davidson, Marriott, Progressive, Ralph Lauren & Tiffany)
Modern Brands (Expedia, TD Ameritrade, Symantec, Ryanair, Under Armor, Whole Foods)
The most common debate happening in offices, bars, dinner tables and in the media around the world is that how can a company with just 32 people that is so new that the very recent global economic meltdown predates its founding can be worth so much. How can a company that barely has any revenue nor any immediately apparent plan to make a lot of money command Facebook to act with such largesse and so swiftly given the deal barely took 11 days from start to finish making it faster than hiring your average intern.
Everyone has their theory from Henry Blodget at Business Insider who believes that the price was justified to Andrew Leonard at Salon.com who illustrates many points of concern and this viewpoint which believes 19B is insanity. I am sure all of your friends and colleagues have their range of sound and crazy opinions as well. The truth is we won't really know for many years as we won't with Facebook's last big bet, Instagram for $1B, just prior to its IPO, which suddenly looks tiny in comparison.
Facebook will be hoping it turns out like the big bet Google made with YouTube in 2006 for the crazy price at the time of $1.7B when it was just a bed for pirated content and very amateur home videos that is now a multi billion dollar business for Google annually and growing rapidly. There have also been big bets made by technology companies including Google's own purchase of Motorola Mobility or past mega internet era deals like Yahoo's $3.6B purchase of Geocities and AOL's $900M mega bet on Bebo which at best have been holding patter bets and probably somewhere close to disasters.
Figure 1: Facebook Released Chart Showing Technology Growth in First 5 Years To Justify Purchase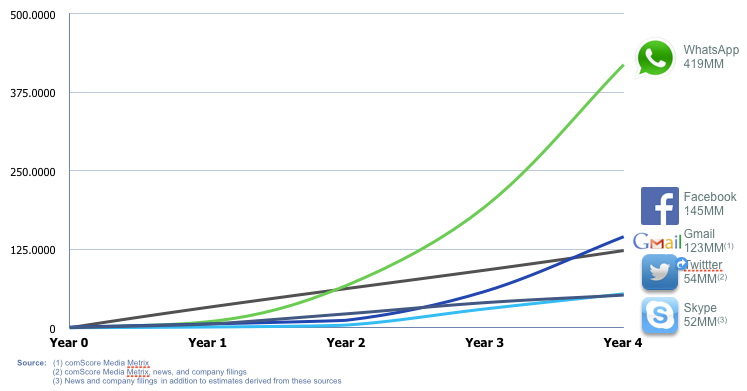 This is what Facebook is using to help justify to the market as to why they took such bold action. There were also rumors of Google making a bid in the region of $10B as well as Facebook's failed $3B acquisition of Snapchat and the very recent $900M acquisition of Viber by Japanese giant, Rakuten. It would seem that major tech companies were in a frenzy for the emerging mobile communications companies based on data like the above showing that adoption of these new forms of technology may draw users and particularly younger users away from their offerings around the world.
This was largely the rationale used for Facebook's big bet on Instagram as well. Some view both these moves as defensive or chasing their tail to ensure Facebook continues to own the platforms where engagement may be going and ensuring that younger users who may not be using Facebook much or at all are still under the Facebook umbrella of services. If that is the primary rationale to do anything it usually a bad sign for a company as it is generally a sign of a company that has run out of its own ideas and innovation and usually means lower growth rates and even declines in customers and users over time.
WeChat, owned by Chinese Internet giant Tencent, is a similar Mobile service largely used in China but also increasingly elsewhere in South East Asia and South Africa. It has a similar registered user base and far more features like allowing users to send monetary gifts (which is very common in China for all major occasions) and is expected to draw in over $1B in revenue this year. This equates to about $7 per user annually and would value the business conservatively at $30B or $95 per user. This even is higher than the $45 per user Facebook would be valued at based on their Market Cap (this has increased over 3 fold over the last year). Avinash Kaushik, ex Google maestro, has an interesting take on  the price and value of Whatsapp that puts all of this into perspective.
It is this potential for Whatsapp, beyond the old ad based model which their founders disdain, that Facebook and those that support their bold move including Investors who are driving their stock price higher following the news are excited about. Skype which has 299M users was worth $8.5B to Microsoft in 2011 and mobile adoptions has only increased and Whatsapp has anywhere between 50% more active users so it would stand to reason that the potential is there for Facebook to turn Whatsapp into a communications mecca. Sarah Lacy at Pando muses that like with Instagram it is all about owning photos and Whatsapp processes more photos than Facebook and Instagram combined and that following the photos is the key to remaining ahead.
The truth is when I heard the news in Chicago at a conference, funnily enough over text message (but not Whatsapp), I was shocked. Not surprised at all by the acquisition itself but the amount certainly did open my eyes quite wide. My immediate reaction was man it was a great strategic move but they really overpaid.
As the days have gone along my feelings have evolved. Facebook spent about 10% of their value at time on Whatsapp so is an epic move but also for a hyper growth company and one that represents the future and mobile globally. For comparison Google spent about 1.5% of their market cap at the time for their epic move on YouTube so relatively financially speaking a little less "bold". Although people thought the added expense of server infrastructure and legal fees to defend copyrighted material on there made it a very "bold" move at the time.
However my issue is more about what this says about Facebook's own internal innovation. Google either via home grown innovation solely and/or buying on nascent technologies build largest email (GMail), largest mapping (Google Maps), largest Mobile OS (Android) etc. on top of their original mega product being the market leading search engine. Facebook Home, Poke and Paper, some of Facebook's biggest in house new mobile product pushes have either failed completely or in case of Paper still remain to be seen.
So are Facebook's days of creating home grown new things and thus core innovation behind us?