One of the beautiful side benefits of the growth of the world wide web and our ability to connect and communicate has been peer reviews. In the days before the online review, which is not that long ago even as late as the nineties into the early 2000s, our method of verifying whether an establishment, person or service was ok was a combination of our friends & family, phone calls to references or 3rd party guides.
The fundamental problem with all of these methods is it limited our scope of getting reliable information to our network or to third party sources who may have had ulterior motives (i.e. like a restaurant guide who is also sponsored with advertising by the place they are reviewing). It is also limited getting a large consensus of opinion as well as opinions of people who might be similar to our tastes due again to the size of our network and the time it takes to accumulate lots of reviews.
Enter sites like Yelp and TripAdvisor, who largely in the sectors of Food and Travel respectively although they have both branched out, made their names as the place of record for every day review of restaurants, bars, hotels and attractions. People initially in the US and then around the world, often without realizing it, were going through a profound behavior modification and were now relying on these types of sources along with sites like AngiesList as their first and often only review verification of a place or service. The content of these sites were mostly user contributed and all of these 3 sites who were unknown brands a decade so ago are now amongst our most trusted resources supplanting legacy brands and old behaviors. In fact they were so successful all three of these companies have gone on to become Public Companies.
Figure 1: How much we love to review online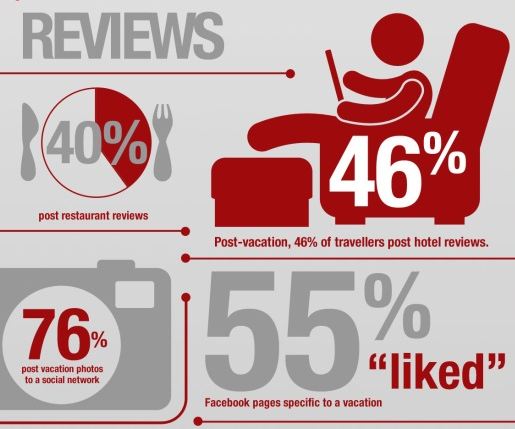 The change in the way we do business is so far reaching because of the network affect of the world wide web that now most sites have some sort or review or comment section whether it be hotels, news sites, online shopping, etc. We are actually suspicious of brands and products when they don't seem to have a visible user feedback section and less likely to purchase;
97% of people found Online Reviews to be accurate (Comscore)
92% have more confidence in Online Reviews than in store sales people (Wall Street Journal)
Onsite reviews can increase conversion by 20%+ (Bazaarvoice)
In a society where such a transformation has taken place our trust in 3rd party sites to give us authentic, unbiased and independent basis for reviews has become us a much an exercise in public service as a profitable business. I think people are have a healthy level of pragmatism with the "editing" or moderation that happens with user feedback or comments on brand's own site or social media portal. Apart from removing outright offensive materials, a brand ultimately has a responsibility to it's shareholders to sell and a negative communication on its own properties will probably affect that.
However with sites like Yelp, Amazon, Hotels.com and ZocDoc where they are both providing a service to the brands on their site as well a service and platform for consumers there comes an interesting dilemma. They all make money from two sides and the action of one side could impact the revenue and engagement from the other side. Remember this dilemma is independent of how good a product, technology, aspects of service or user experience these sites provide.
I think in general Yelp and Amazon are great examples of companies that largely do this well. You are likely to be able see a wide range of opinions, unedited by patrons and purchasers of the establishments and products. Brands have the option to respond to any given review or report it if there is something that is malicious or verifiably untrue. However this does not extend to opinion and if a patron says an Indian restaurant's food was bland and the restaurant believes it is spicy doesn't mean they can tell Yelp to take it down. This is a clear case where an online review is a genuine review and can provide a whole unedited picture of people's feelings and experiences.
ZocDoc is an example of a site that does this terribly. ZocDoc really makes their money from medical providers playing a subscription fee to access the ZocDoc booking platform. It is in my opinion the best medical provider listing service and online booking platform that exists and solves a badly needed problem for an industry that largely has to be dragged into the 21st century of doing things. They do this in an excellent manner and their customer service around the booking aspect of their platform is also first rate, often doing different forms of making good situations where medical providers might change or cancel an appointment.
However they are also trying to be a site of record for medical provider reviews and it is here they fail miserably. ZocDoc will firstly moderate themselves any review prior to going live and will remove reviews just on the word of the medical provider saying it is untrue. Now when it comes to reviews of service, truth is in the eye of the beholder and you are often only being shown truth in the eye of the medical provider. This has happened to numerous people I know who had bad experiences and explains a lot why when I have searched the majority of providers the rating skew far closer to 5 stars rather than 2-3 stars.
I understood the economic reasons why they operate this way and I was actually told on the phone when I pointed out the flaw in their review system, that they follow the philosophy of Hotels.com. I can tell you personally when I realized this, I was so disappointed as I admire ZocDoc both as an innovative startup in New York, solving a great problem well with great customer service. They are still a great booking platform and provider listing site but they have forever lost my trust as an independent review platform and are akin to a brochure produced by the medical provider itself.
The best analogy is probably to OpenTable which is a great booking platform for restaurants but unlike Yelp is not someone most people look to for reliable reviews. This also means I don't trust Hotels.com reviews either and these are clear cases where online reviews are not really reviews.