I thought I would do a two part series on Online Dating given it is a fascination for so many of us both in terms of social behavior as well as the many who profit from the love and sex of us all. This post will look more at the business of dating and the roller coaster ride it has taken that many would not be aware.
Many would think that it has grown continually as with internet adoption, but for a period there while maybe not dying it was certainly stagnating to the point where many thought it had only a minor role to play in society. However since the financial crisis, online dating has gone through somewhat of a rebirth and some very interesting innovations and trends have emerged. This has impacted everything from individual behavior to the decisions of the biggest companies in the world.
In the halls of business …
This past week a few stories have been surfacing about online dating sites having their ads banned by Facebook. In general these are not illegitimate operations rather Facebook responding to user feedback about their users being saturated with dating ads. This ban is temporary and will be lifted on February 15 (the day after Valentine's Day and doesn't seem to be applicable to the largest dating advertisers on Facebook who are some of Social Media's and digital's biggest advertisers.
The reason why this is such a major business story is that Facebook who had in anyone's opinion a catastrophic IPO in May 2012 was thought at the time to not really be in a place to turn down major ad dollars. Originally launching on the NASDAQ at $38 they soon cratered down to the mid teens with many digital and financial wizards predicting everything from slow growth to steady decline to total irrelevance in its future. The fundamental reason was at the time of IPO, Facebook essentially made $0 from mobile ads yet trends clearly showed that is where its user base was increasingly accessing its service. Some countries like India at the time already had more than half its Facebook users being mobile first or mobile only.
Well by October 2013, Facebook's stock price was hovering in the mid $50s, its global daily user base was about 50% mobile only and approximately an equivalent percentage of its revenue was covering from mobile ads. In other words they in relatively short order had figured out how to monetize their user base on a different device and behavior type and not be overly reliant on industries like gaming which provided a large portion of their desktop ad revenues.
So the fact that Facebook is willing to forgo precious online dating revenues during their major season in the leadup to Valentine's Day says  one or both of two things. Either Facebook is still very uncertain about mobile and the user experience not being overly commercial to their user base (especially with same type of ads on repetition like dating) and/or they are confident in growth from other verticals in social media spend on mobile.
The evolution of online dating …
Well  who are these online dating companies that we all frequent?
The are the behemoth companies who have built big traditional business and have been around for 10 years or more like IAC (owners of Match.com & Chemistry.com), Sparks Networks (owners of ChristianMingle & JDate amongst others) and eHarmony. Then there are the mobile first digital dating sites like Tinder and HowAboutWe that have captured millions of younger people around the world providing a mobile on the go experience more condusive to their fast paced lives. Finally there are the ever present dating sites like OKCupid & PlentyofFish with their freemium models have attracted possibly the broadest spectrum of humanity search for love, lust and everything in between.
Online dating was actually going through somewhat of a decline from the mid 2000s as exemplified by the stock chart of Sparks Networks below. Many of the initial dating sites launched in the nineties and the promise of a better way to date for the masses was seen almost as too good to be true. Millions of Americans initially and then those around the world (including traditional arranged marriages in places like Asia) took to online dating in droves. Of course there were teething problems with safety but in general millions embraced it more than the traditional print classifieds even if they didn't like admitting it to friends 🙂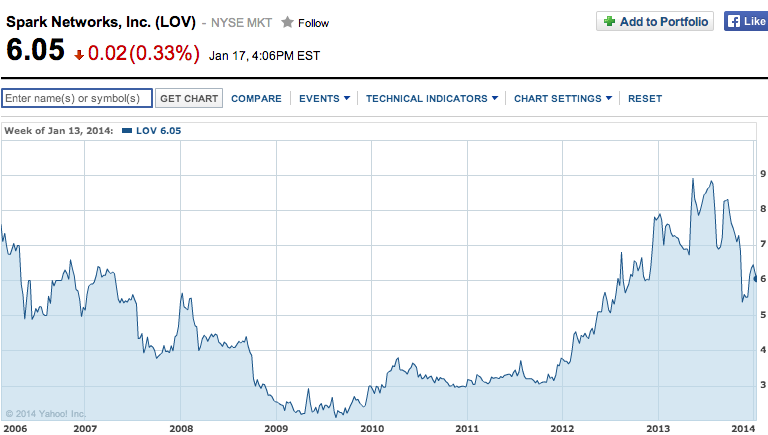 Well once we got to the mid 2000s we reached a bit of a malaise and many of the earlier adopters of online dating had achieved their aims or were sick of it and because there was a still a social stigma with meeting that way, greater adoption was not happening at a high growth rate. The the financial crisis hit in 2008 and everything went to hell but a couple of strange things happened in the online dating world.
The first was people were embracing monogamy and more stable relationships again and wanting to cohabitate more as security from the uncertainty of the economy, of their own finances and as a source of emotional support. This phenomenon is all too common say many sociologists in times of turmoil like War or Depression. This meant people were willing to embrace methods to meet people and online dating presented by far the most efficient method to meet people of interest at scale.
Secondly following the iPhone's launch in 2007 and Android in 2008 the mobile revolution was born. This more on the go access to the Internet and more universal use of technologies like GPS presented a revolution for dating behaviors and allowed scores of mobile dating companies to be born. This placed dating in the hands of everybody, all the time and suddenly the social stigma surrounding online dating was vanishing and according to many studies 1 in 5 of us were meeting online and growing.
As you can see from the Sparks' chart the stock price followed these trends and the business of online dating started to get very interesting ….. In my next installment on online dating, I will tackle the biggest question of all  … DOES IT WORK?